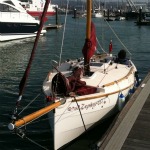 Zephyr is sail number 47 and was built at Cape Yachts in South Africa in 2003.
She was then shipped to the UK in a container. By late 2003 she was living on a mooring in Lymington and sailed on and around The Solent. She was then sold and moved to Stranford Lough in Northern Ireland, during which time she was stolen for a couple of days; the thief clearly had no idea just how rare she is!
Her days in Northern Ireland came to an end on 20th November, 2010, when I purchased her. I live near Birmingham, which might sound like a daft place to live if you sail, but it's a great place to trailer sail from. In the last three years I've taken Zephyr to the Solent, Plymouth, Falmouth, North Wales, Firth of Clyde, East Coast and even as far as South West France.
There's lots of Cape Cutter 19 information in Zephyr's blog. Click here.